MY KNOWLEDGE.
MY WAY.
MYOBLOC.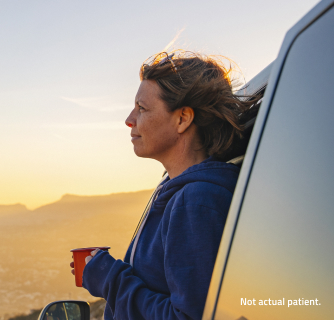 Approved by the FDA 23 years ago, MYOBLOC® is a well-studied treatment for cervical dystonia (abnormal head position and neck pain). See why physicians consider MYOBLOC for their patients.
Jump to Section
expand
collapse

The evidence
In clinical studies, MYOBLOC demonstrated:
Improvements in head and neck position by 4 weeks of treatment

12 to 16 weeks of
relief per injection†

At least 3 years of relief with repeat injections (long-term unblinded study)
MYOBLOC achieved FDA approval based on 4 clinical studies, 2 Phase 3 (186 patients) and 2 Phase 2 (207 patients), that evaluated the efficacy, safety, and tolerability of MYOBLOC in adults with toxin A-responsive or toxin A-resistant cervical dystonia. These studies assessed the ability of MYOBLOC to reduce severity of abnormal head position, the effects of abnormal head position and pain on activities, and the severity and duration of dystonia pain, as measured by TWSTRS total and subscale scores.‡ MYOBLOC was also evaluated in a long-term, unblinded (both the providers and patients know the treatment being given) study (145 patients), to assess the effect of subsequent injections on pain relief.
*In studies, adults treated with MYOBLOC had significant pain relief at 4 weeks after treatment.
†Subsequent dosing should be determined by the patient's individual response.
‡TWSTRS = Toronto Western Spasmodic Torticollis Rating Scale

A TRUSTED LEGACY SPANNING
23 years
MYOBLOC became the first FDA-approved neurotoxin for the treatment of cervical dystonia in adults on December 8, 2000. It remains the only FDA-approved type B option.
How MYOBLOC works
There are 2 types of botulinum toxin used to help treat cervical dystonia. Both block acetylcholine in different ways. MYOBLOC is a type B toxin that is administered right in your healthcare provider's office and treatment takes only a few minutes.
MYOBLOC disables a protein that would typically trigger the release of excessive acetylcholine, which causes muscles to become tense and spasm.

When your healthcare provider injects MYOBLOC into affected muscles, it blocks the release of acetylcholine, allowing them to relax.

Over time, your healthcare provider will adjust the dose of MYOBLOC to achieve maximum pain relief and muscle spasm control. 
Most common MYOBLOC side effects
The most common side effects of MYOBLOC in people with cervical dystonia include dry mouth, trouble swallowing (dysphagia), injection site discomfort or pain, and headache.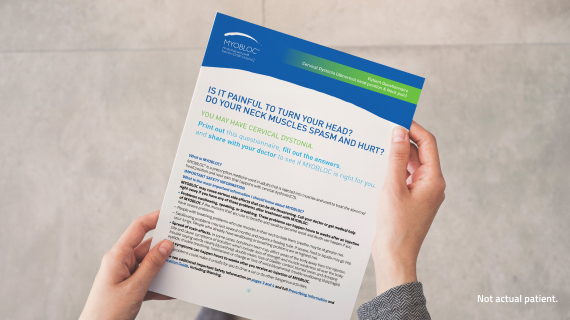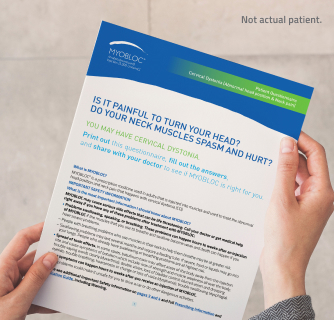 Use our questionnaire to talk with your healthcare provider about MYOBLOC
Our questionnaire can help guide the discussion. Fill it out, bring it to your next appointment, and talk about your symptoms with your healthcare provider.