MY RESOURCES. 
MY SUPPORT.
MYOBLOC.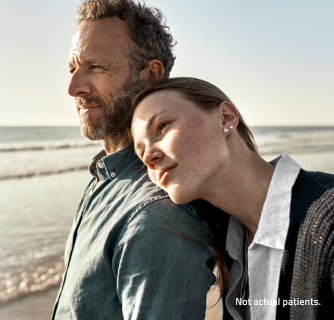 From financial assistance information to downloadable brochures, get the resources you need to help support you on your journey.

MYOBLOC Co-Pay Savings Program
If you need financial assistance in obtaining your MYOBLOC® treatment, there are programs available for eligible patients. You could receive up to $4,000 each year to help with out-of-pocket expenses for MYOBLOC.
For more information about our patient programs, please see FAQs below or call 1-888-461-2255, Option 3 , M-F 8 AM-8 PM ET.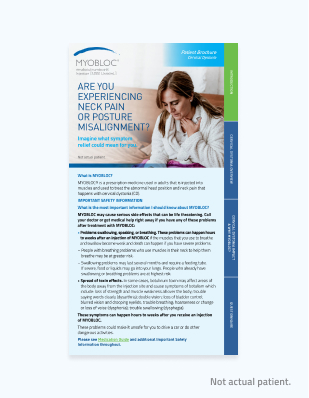 Cervical Dystonia Patient Brochure
Learn about what causes cervical dystonia, how it can impact your life, and how MYOBLOC may be able to help.
Download Brochure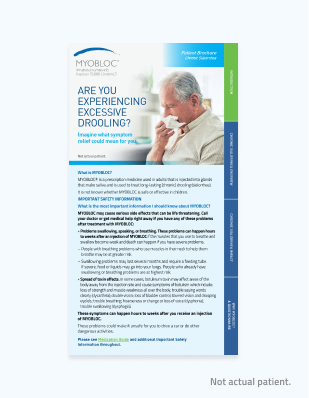 Chronic Sialorrhea Patient Brochure
Get more information on chronic sialorrhea, learn how it can affect everyday life, and see what symptoms you should be watching for.
Download Brochure
Co-Pay FAQs
Patients who:

Are 18 years or older and legal US residents
Have commercial insurance coverage
Are diagnosed with cervical dystonia (G24.3) or chronic sialorrhea (K11.7)
Are NOT enrolled in a government insurance plan (eg, Medicare, Medicaid, TRICARE®, and other federal- or state-funded programs)

Any size vial of MYOBLOC
Injection procedure costs
If used, injection guidance costs 
      - Ultrasound or EMG
Residents of Michigan, Rhode Island, and Minnesota are not eligible for injection procedure or injection guidance costs

Healthcare providers can enroll patients or patients can call 1-888-461-2255, Option 3, to enroll.

No enrollment forms needed
No financial requirements

Up to $4,000 per year
There are NO cost limitations per injection

1. This offer is valid for commercially insured patients only and is good for use only with a MYOBLOC prescription at the time the prescription is filled or after the product is administered to the patient. 2. Depending on insurance coverage, eligible insured patients may pay no more than zero dollars ($0) for MYOBLOC and the administrative services associated with MYOBLOC, up to a maximum savings limit of four thousand dollars ($4,000) per year. Patient out-of-pocket expense may vary. 3. This offer is not valid for patients enrolled in Medicare, Medicaid, or other federal or state healthcare programs, or private indemnity or HMO insurance plans that reimburse you for the entire cost of your prescription drugs. Patients may not use this Program if they are Medicare-eligible and enrolled in an employer-sponsored health plan or medical or prescription drug benefit program for retirees. 4. The offer is valid for one (1) year. 5. Supernus reserves the right to rescind, revoke, or amend this offer without notice. 6. Offer good only in the USA, including Puerto Rico, at participating pharmacies or Healthcare Providers. 7. Void if prohibited by law, taxed, or restricted. 8. Residents of Michigan, Rhode Island, and Minnesota are not eligible for assistance with payment for injection or injection guidance-related costs, but may receive assistance with MYOBLOC. 9. This Program is not transferable. The selling, purchasing, trading, or counterfeiting of this Program is prohibited by law. 10. This Program is not insurance. 11. By redeeming this assistance, you represent that, to the best of your knowledge, the patient is eligible to participate in the Program and that you understand and agree to comply with the terms and conditions of this offer.
MYOBLOC is a prescription medicine for adults and can be used to treat 2 different conditions. MYOBLOC can treat abnormal head position and neck pain caused by cervical dystonia. MYOBLOC can also treat long-lasting (chronic) drooling (sialorrhea). It is not known whether MYOBLOC is safe or effective in children. 

MYOBLOC can cause serious side effects that can be life threatening, including problems swallowing, speaking, or breathing, as well as the spread of toxin effects. It can also cause allergic reactions. Symptoms of an allergic reaction to MYOBLOC may include itching, rash, redness, swelling, wheezing, trouble breathing, or dizziness or feeling faint. Call your doctor or get medical help right away if you have any of these problems after treatment with MYOBLOC.
The most common side effects of MYOBLOC in people with cervical dystonia include dry mouth, trouble swallowing (dysphagia), injection site discomfort or pain, and headache. 
The most common side effects of MYOBLOC in people with sialorrhea include dry mouth and trouble swallowing (dysphagia). These are not all the possible side effects of MYOBLOC. Please see the full Important Safety Information.

Do not take MYOBLOC if you:

Are allergic to MYOBLOC or any of the ingredients in MYOBLOC; see the end of the Medication Guide for a list of ingredients
Had an allergic reaction to any other botulinum toxin product such as BOTOX®, BOTOX® Cosmetic (onabotulinumtoxinA), DYSPORT® (abobotulinumtoxinA), or XEOMIN® (incobotulinumtoxinA)
Have a skin infection at the planned injection site

Cervical dystonia (CD) is a neurological movement disorder that causes the muscles in your neck to contract (tighten) involuntarily. This muscle tightening can cause you to hold your head and neck in painful, abnormal positions. These positions can cause you to face challenges and discomfort in your day-to-day life.

Normally, your brain sends chemical signals to your head and neck muscles to keep their movements smooth and controlled. In patients with CD, these signals work improperly. When acetylcholine, one of the chemical signals, is released at above-normal amounts, it causes muscles to be tense and overactive.
In some cases of CD, causes can be linked to neck, head, and shoulder injuries, and certain drugs. While the exact cause is not clear, research is still being conducted to explore the factors that can contribute to CD.

Typically, CD symptoms are gradual and include:

Abnormal and painful turning of the head and neck 
      - Increasing neck muscle tightness or spasms
Neck pain
Uncomfortable pulling in the neck
Tremors of the head and neck
Limited range of motion

Pain is a common complaint of most patients with CD

75% of patients with CD reported neck pain as a common symptom 
      - Of those patients, nearly 7 out of 10 said the pain was moderate or severe
CD pain may interfere with your work and daily life

Sialorrhea, more commonly known as drooling, is the medical term for an excess spillage of saliva from the mouth. It is a common symptom in certain neurodegenerative diseases such as Parkinson's disease. Chronic sialorrhea is when you've experienced this drooling for at least 3 months.
Sialorrhea can make many aspects of daily life more challenging and can also have physical consequences.

In many patients with chronic sialorrhea, their neurodegenerative disease, such as Parkinson's disease, makes it hard to swallow. The saliva builds up in the mouth, which leads to drooling.

MYOBLOC is available at no charge to adult patients approved for the Patient Assistance Program. 
Qualification criteria:

MYOBLOC is prescribed by a licensed physician to treat cervical dystonia or chronic sialorrhea 
Patient has no health insurance benefits for MYOBLOC 
      - Insured – No benefits 
      - Uninsured
Patient cannot otherwise afford MYOBLOC treatment
Legal resident of the US
Patient is injected with MYOBLOC (J-Code J0587) accompanied with ICD-10 code G24.3 for cervical dystonia or ICD-10 code K11.7 for chronic sialorrhea

To learn more, call 1-888-461-2255, Option 3.

The MYOBLOC Co-pay Program may be able to help. The Co-pay Program helps eligible adult patients with either cervical dystonia or chronic sialorrhea with out-of-pocket expenses for MYOBLOC.