MY KNOWLEDGE.
MY WAY.
MYOBLOC.

Backed by clinical studies, MYOBLOC® is the first and only FDA-approved botulinum toxin B for the treatment of chronic sialorrhea (excessive drooling) in adults. See why physicians consider MYOBLOC for their patients.
Jump to Section
expand
collapse

The evidence
In clinical studies, MYOBLOC demonstrated:
Decreased symptoms as early as 1 week

Significant improvement at 4 weeks after treatment

Effects that lasted up to 12 weeks
MYOBLOC achieved FDA approval based on 2 Phase 3 clinical studies that evaluated the efficacy, safety, and tolerability of MYOBLOC in 241 adults with chronic sialorrhea. The studies assessed saliva production among participants, as measured by the Unstimulated Salivary Flow Rate (uSFR), as well as the healthcare provider's determination of improvement in drooling, as measured by the Clinical Global Impression of Change (CGI-C).
PROVEN TO PROVIDE
Relief
MYOBLOC is a well-studied neurotoxin with efficacy and demonstrated tolerability for adults with chronic sialorrhea. It remains the only FDA-approved type B option.
How MYOBLOC works
There are several types of botulinum toxins and each works differently to help reduce excessive drooling. MYOBLOC is a type B toxin that is administered right in your healthcare provider's office and treatment only takes a few minutes.
MYOBLOC disables a protein that would typically trigger the release of excessive acetylcholine, which increases saliva production.

When your healthcare provider injects MYOBLOC into affected salivary glands, it blocks the release of acetylcholine, reducing saliva production.

Over time, your healthcare provider will adjust the dose of MYOBLOC to achieve maximum relief from chronic drooling.
Most common MYOBLOC side effects
The most common side effects of MYOBLOC in people with sialorrhea include dry mouth and trouble swallowing (dysphagia).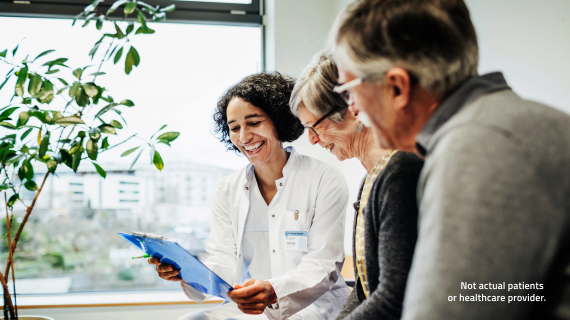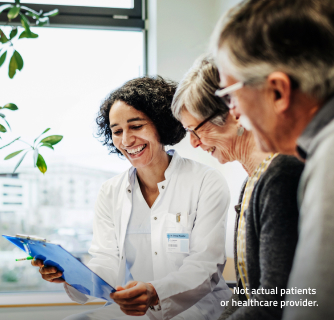 Use our questionnaire to talk with your healthcare provider about MYOBLOC
Our questionnaire can help guide the discussion. Fill it out, bring it to your next appointment, and talk about your symptoms with your healthcare provider.